Filosofská was the first ever primary school I've ever stepped at in the Czech Republic.  My mindset was to expect something different because public education in Peru is not precisely the best in the world.  My surprise was big when we had a big opening ceremony and all the kids were so nice at us, and they spoke English, because this school is very focused on teaching languages from the very first grades.  I also knew another neighborhood in Prague, Novodvorská, but thank god it wasn't very far from home.  At first I was somehow nervous, because I've always thought that I wasn't good with kids, mainly because patience is not one of my strong advantages, but surprisingly I left all my bad feelings behind, and I started trying to present Peru in the best way for those kids.
For instance, I didn't know exactly which topics I shouldn't have talked about, because if someone knows Peruvian history, there are happy moments, but very sad moments too, but I presented Peru as the magnific country that it is: a country that suffered with militart governments, state coups, hyperinflation and terrorism, but today is reknowned as a thriving nation, as a developing economy, that passed from having the world record of inflation in one day (8000%) to have the second lowest inflation in the world in 2008, after France.
So I started with Marca Peru, our country brand, because that's what I want, I want them to recognize our country with its brand.   Then I started with some basic information about Peru, the Inkas, its history.  But I also talked about terrorism, that sick period of our time that thank god is no more present this days.  I showed them the video of car bombs in Lima, so they could understand the atrocity and violence of that period of the early 90's, but I also showed them our finest hour, when the Chavin de Huantar elite group of the Peruvian Army freed the hostages of the Embassy of Japan in Peru, making, maybe, the best hostage release operation of the last times.  And then, our dances, our glorious Peruvian gastronomy, and some sport achievements, of course most of them in black and white, as so as our great Juan Diego Flórez.
And by the end of the days at this school, two kids asked me for an autograph, and this was the very first time that happened to me.  I told them to save that autograph because it would be valuable later on, and then I sang the Czech national anthem.  And I did it because I want to inspire them, to make them know they have a truly blessed land, and that I don't teach them about Peru to encourage them to leave their countries and go to live to Peru, but to go to Peru, learn, enjoy, live experiences, and apply the best from Peru to improve that true "zemský ráj" called Česká republika.
---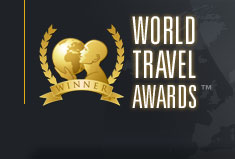 Peru has been nominated for several South American categories in the World Travel Awards, such as best South American destination with Lima and Machu Picchu and best gastronomy.
To cast your vote, just go to http://www.worldtravelawards.com/vote, register yourself, my personal tip is tu uncheck all the checkboxes, so you won't get undesired newsletters, and then select South America and vote for Peru in the categories mentioned above and some other available too.
---
---